I offer a very sensual and intimate type of massage, where we both will be naked and I will take care of every part of your body. Next I will give you a hint of what I do during a session. If you will want to know more or to feel more, give me a call J.
The Body to body Massage – Level 1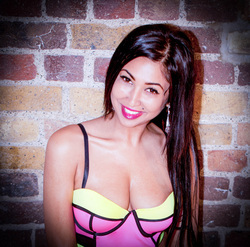 One of the massages I do is the body to body massage. This is a full body massage where I combine stronger moves on your muscles with sensual slides across your body. I will start by wearing a sexy lingerie which will gradually come off during our session. I will pour warm scented or unscented oil all over your body and a firm massage on your muscles will release the tension and the stress accumulated in your body. If you want me to take extra care of your back or legs or other parts of your body which are sore, just let me know in the beginning. Later on, after all my clothes will be off, I will begin to slide my body across yours with slow and sexy moves which will make you feel like you're in heaven. And I will finish my massage with a Lingham massage. This is a special type of massage which lasts between 10 and 15 minutes and concentrates on your intimate area. I will massage your penis and the surroundings very slowly and bring you close to finish several times before actually finishing the session.
150£(1h)   — 230£(90 minutes) — 300£(2h)
The tie and tease seduction- Level 2

The tie and tease experience can help you discover the kinky side of things. If you're looking to spice up your day, this session is perfect for you. Tying up, blindfolding, wax or ice, hot or cold, or maybe some feather play. Just tell me what your fantasy is and I'll make it come true. Please understand that this is not a sexual service and what I do is a very sensual play meant to highten your senses and bring you to the edge of the greatest pleasure you can ever get from a masseuse. 

170£(1h)
260£(90min)
340£(2h)
Sexiest massage ever, slippery Nuru fun – VIP – Level 3
| | |
| --- | --- |
| | The other type of massage I offer is called the Nuru massage. This is my best and most intimate service I offer. Unlike the first one, the Nuru massage starts in the shower, where I will give you a soapy massage and wash you clean. After that, we will go to my room and I will put on the warm Nuru gel. You can also help me do that, so a lot more touching involved in this session. The gel is an old Japanese recipe with seaweeds, very good for the skin and with lots of minerals so it will feel like pampered in a spa by a hot naked girl. This will also make my body slide so much easier and bring us very close. Close your eyes for a moment and imagine me sliding my beautiful nude body across yours, on the back and on the front side with slow, lingering movements. And again I will give you a Lingham massage for the perfect ending of our session together. I promise you will forget all about your stress and daily worries. Leave my place a new and more energetic man! |
200£(1h)
300£(90min)
400£(2h)